Each of the streams has different parameters to modify. The Audio File stream can be looped, played and stopped using the corresponding buttons, and its playback speed can be controlled either manually or with streams as well. The default Playback Speed is 1, which means normal speed; a 2 would mean double speed, and 0.5 half speed.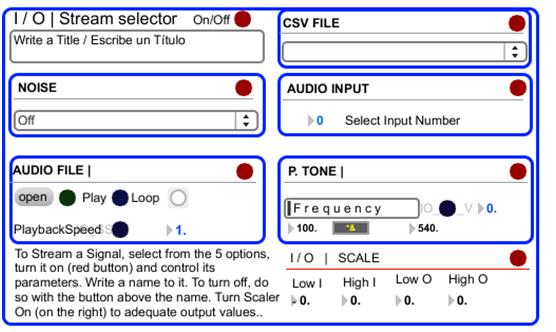 Figure 15. Picture of a Stream Selector, on it, it can be seen that 5 different streams are presented to be passed to the main patch, each one of them with their different modifiable parameters, some of them able to be mapped from another stream selector, such as the playback speed.
The pure tone can be modified on its frequency, and once again, this can be mapped from another Stream Selector. It can also be manually controlled using MIDI devices, by pressing the learning button below the frequency bar. The rest of the streams are simpler to control, as they just give the options to select White or Pink Noise, the number of the Input Channel to be used or the desired CSV file.
…
…
Further on this chapter:
0. CONTENT
4.2 DATA READING
4.4 STREAM SELECTORS
4.5 SCALERS
4.6 VOLUME MAKER
4.7 DATA READERS
4.8 PHYSICAL LAYER